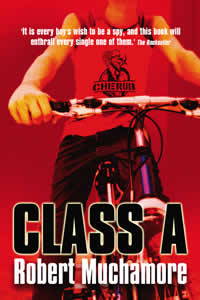 This is the second book in the first CHERUB series. It was released in 2004. It is centered around James Adams trying to shut down the drug baron Keith Moore and his gang KMG.
Plot
This book begins with James and Bruce on a training exercise to rescue two 8 year old red shirt hostages, however they failed to execute a succesfull survey and made a lot of noise battling Mr Large's dog. Later they were shot with paintballs by Kerry and Gabrielle on their way out.They failed the exercise and had to jog 10 miles back to the hostel. James was also put on an emergency fitness programme
James is snowed under with school, running laps and punishment gardening, Kyle offers to sell him a history essay to help him and then tells him he can go on a mission with him Kerry and someone else. James is indignant that Kyle sold him an essay he didnt need. Kyle keeps the money but in return gets Nicole Eddison who James likes because of her large breasts which James agrees to.
The mission to infiltrate Keith Moore's gang and shut it down by assisting Operation Snort.Keith Moore imports cocaine into the country from the drug cartelle Lambayeke and sells it on to people in the area. Kyle is to befriend Keith's oldest son Ringo. James is to befriend Keith's youngest son Keith Moore Junior. Nicole is to befriend April Keith's oldest daughter .Kerry is supposed to befriend Keith's youngest daughter Erin Moore.
Everyone befriends who they are meant to apart from Kerry who can't befriend Erin so she meets someone called Dinesh whose dad mixes cocaine with borax for Keith Moore.
James did the best and acted as a drug courier for Keith Moore and earned his respect by burning out Crazy Joe's Mustang. Keith invited James on a Holiday to Miami with him and Junior. After James and Kerry uncover what Dinesh's dad is doing it causes over 50 important figures in KMG.While in Miami Keith severs his ties with Lambayeke . Lambayeke sends over some goons to take Keith's money and they kill his body guard, George. James and Junior only escape because they were on the beach doing some midnight boxing.
James narrowly escapes with several near misses from bullets. He kills a man in self defence and steals a car to escape .Keith is put in jail and Junior is sent back to the UK